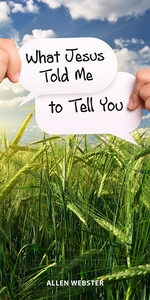 What Jesus Told Me to Tell You (Pack of 5)
Tract-0430
What Jesus Told Me to Tell You
(Pack of 5)
Just before returning to heaven, Jesus pointed a nail-scarred hand at a world for which He had just died and told His followers to "go."
The message they were to take was simply the gospel. This word means "good news" and refers to sharing the fact that—because of Jesus' sacrifice on Calvary—all men can be saved and go to heaven.
The "go" command is for every generation. The early Christians took the gospel to their world (Romans 10:18; Colossians 1:23); we must take it to ours. This task now falls to every Christian, including me. Through this commission, Jesus told us to tell you His message.
Will you give me that opportunity?
---
We Also Recommend