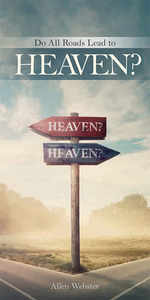 Do All Roads Lead to Heaven? (Pack of 5)
TRACT-0466
Do All Roads Lead to Heaven? (Pack of 5)
Two sisters went driving Sunday afternoons with the goal of getting lost. Taking random turns at intersections, trying new roads, going farther and farther afield, they had an adventure each week. The starting and ending points were the same, but the path was always different.
Is this how the path to heaven is? This is a common view. Dalai Lama XIV said, "People take different roads seeking fulfillment and happiness. Just because they're not on your road does not mean they've got ten lost." Many believe all religions are essentially alike, different roads to the same heaven. Eventually all—Jews, Buddhists, Hindus, Muslims, Catholics, Baptists, Methodists, Episcopalians, Presbyterians, Lutherans, Mormons (and perhaps even atheists, agnostics, humanists, Communists, and Gentiles)—will wind up together.
The Bible does not always match politically correct culture. Does it teach that all religious roads lead to the same place?
---
We Also Recommend