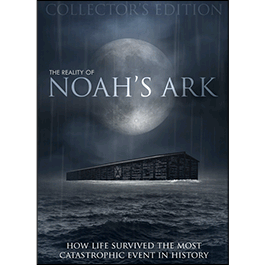 The Reality of Noah's Ark - Collector's Edition
AL-Noah_Ark_SPECIAL_EDITION
The Reality of Noah's Ark
Collector's Edition
HOW LIFE SURVIVED THE MOST CATASTROPHIC EVENT IN HISTORY

Throughout history, Noah's Ark and the Global Flood have been the focus of famous artwork, scholarly discussions, written works and public dramatizations. While some have accurately upheld the Genesis account, many more have not.
In order to distinguish the truth about Noah's Ark, and to clear the fog-of-confusion, Branyon May (Ph.D.) plainly addresses the facts and clearly demonstrates "The Reality of Noah's Ark" with stunning visuals and concrete examples to strengthen your faith.

A strong defense of the Bible.
This two-hour video series contains four parts plus special features:

 I.   The Biblical Account of Noah (39 min.)
II.  The Ark (26 min.)
III. The Animals (27 min.)
IV. The Global Flood (33 min.)
Special Features
– Visiting Noah's Ark
– Ark Slideshow
– Production Slideshow
Retails for $12.95