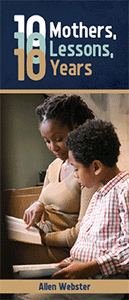 10 Mothers, 10 Lessons, 10 Years (Pack of 10) (Ten)
Tract-0496
10 Mothers, 10 Lessons, 10 Years
(Pack of 10)
Mothers are the world's best teachers. They love unconditionally (1 Corinthians 13:4–8)—they know our faults and failures and love us anyway. At mother's knee, children learn the first lessons about God, life, love, and discipline. In small childhood moments, minds are
molded and attitudes are formed that continue throughout life.
Consider ten lessons that ten Bible mothers taught their children. If each mother can instill these by the time her child reaches ten, she will have given them a good foundation.
---
We Also Recommend