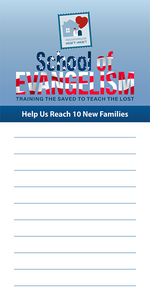 School of Evangelism Reach the Lost and Strategies for Success (Pack of 10) Info-Cards or Oversize Bookmarks
Bookmark-0065
School of Evangelism Reach the Lost and Prospects (Pack of 10) Info-Cards or Oversize Bookmarks
This bookmark is to be used in congregations or for personal workers who want to keep 10 families in mind all the time that they are working to reach. There are strategies on the back for success.
Identify prospects from your local area.
Pray every day for the contacts you identify.
Cultivate the soil before you sow the seed.

Meal invitations are a great way to transition into a Bible study. You must earn the right to have the study.

Be familiar with a study method like "Back to the Bible," and be ready to use it.

To be used in coordination with other School of Evangelism materials including the Back to the Bible study, Does It Matter, and Rob Whitacre's Workbook and DVDs. 
---
We Also Recommend