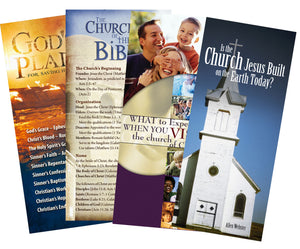 Door Knocking Pack
Tract-Pack-0004
Door Knocking Pack
Five Packs (50 copies) Each of Two Tracts and Two Information Cards
Reach out to your community on door-knocking day, or at any time, with this discounted bundle.
This collection contains 5 packs each of the following:
What to Expect When You Visit the Church of Christ (Total of 50)

Is The Church Jesus Built on Earth Today? (Total of 50)

The Church of the Bible (Total of 50)

God's Plan for Saving Man (Total of 50
 The regular price for these items separately would be $70. The discounted price is $60.
---
We Also Recommend