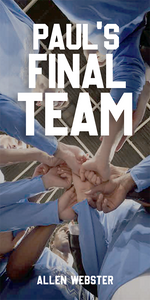 Paul's Final Team (Pack of 5)
TRACT-0470
Paul's Final Team (Pack of 5)
On April 16, 2003, Michael Jordan played his last NBA game, losing 107–87 to the Philadelphia 76ers. He scored 15 points with four rebounds and four assists, finishing his career with 32,292 points—the third-highest total in league history—behind Kareem Abdul-Jabbar and Karl Malone. Jordan's career average of 30.12 is the best in NBA history, just ahead of Wilt Chamberlain's 30.07.
That final game featured some well-known and some little-known NBA people. Doug Collins coached the Wizards. Larry Brown coached the 76ers. Tyronn Lue, Christian Laettner, Brendan Haywood, and Kwame Brown played with Jordan. Allen Iverson was the leading scorer for the 76ers. These are not the people we naturally associate with MJ—Phil Jackson, Scottie Pippen, Horace Grant, Steve Kerr, Toni Kucoc—but they were the ones there at the end.
Paul's last team was like that. His last book is 2 Timothy; his last chapter is 2 Timothy 4. Barnabas and Silas were not mentioned. No apostles were. Who was?
---
We Also Recommend