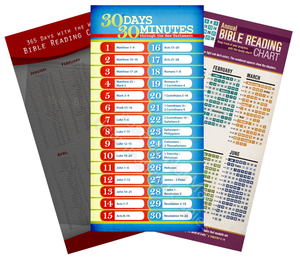 Bible Reading Chart Bundle: Three 10-Packs
Bookmark-Pack-0001-Bible-Reading
Bible Reading Chart Bundle: Three 10-Packs
Commit to reading every word that God ever wrote. Read through the Bible in a year or the New Testament each month. 
This pack includes our classic Bible reading chart, our more modern look, and our monthly New Testament chart. 
Get one pack (10) each of the three Bible Reading Bookmarks. This includes two annual reading charts and one monthly New Testament reading plan. 
---
We Also Recommend